Jury Rapport
Juryleden
Annelies Thoelen (voorzitter)
curator of Z33, House for Contemporary Art, Design and Architecture in Hasselt, lecturer in product design at the LUCA School of Arts in Ghent;


Michiel Ubels
film producer, director, musician with a background in the visual arts and graphic design (graduate of the Design Academy Eindhoven), Best Short Documentary (among others);


Rik Meijers
visual artist (graduate of the Jan van Eyck Academie in Maastricht), represented in the collections of various museums in the Netherlands and abroad, Prix de Rome, Wolvecamp Award.

Secretary: Edwin Jacobs, director and chair of the Gilbert de Bontridder Award.

Jury Rapport
Gilbert de Bontridder Award 2021:
Beatrice Pittman
'Give me the Now', wrote Rudolph Zwirner in 2019, referring to the essence of his long career as an art dealer, which included the founding of Art Cologne in 1967: that the post-Second World War art world depends on current events. If there are no current events or to be more precise, if they do not appear, the world of artists and contemporary art will crumble.
The 2021 Gilbert de Bontridder Award will be awarded to Beatrice Pittman. Through her projects in the visual arts, she addresses a topical issue with the aid of the necessity she has imposed on herself on account of the COVID pandemic. To Beatrice Pittman, The Now is a visual art that does not distinguish or discuss her as the creator, but allows her to disappear. 
The core of Beatrice Pittman's work is that she subtly aims to achieve a systemic shift, in which she restores the classical theme in the visual arts of nature to its own values. Inspired by walking and weaving, a long-term research project has emerged that unites the worlds of walking and weaving. She brings together the repetitiveness of both activities in phases, a process in which the artist itself is put under scrutiny. A reassessment of the artist's position conclusively becomes the subject of the creative work. The final result imposes a new task, that of elimination. Not in a violent way, but gentle, warm and 'oh so', with a clear focus.
The most provocative aspect of Beatrice Pittman's art is that she manages to achieve this through textiles. Her own fabrics are left behind in the landscape and become part of a new process of making, with nature in the starring role. And an emergent form unfolds, which the artist films. In this way, the story is told of the artist who disappears, closing the loop between nature and textiles. The craft of the artist as a process that offers insights, showing how new procedures can be followed on the basis of new forms of creation.
Do we feel a need for such a proposition now, now that humankind has learned to appreciate nature again for what it is and not for what it has to offer, such as ores to be mined, or a beautiful view to paint or take a photograph of? It is extremely sensually stimulating that textiles and textile work forms seem to be taking on a pioneering role in this.
Beatrice Pittman has the potential to grow and give shape to an entirely individual and authentic artistic practice. Her visual art is also one guided by great humility. In fact, there is no other way to approach nature. The post-pandemic era is not about returning to how it was before, which is impossible. Many topical issues revolve around this and this comprises the core of a true reasoning, in contrast to many contemporary graduation works in the visual arts.


Annelies Thoelen, Michiel Ubels en Rik Meijers
Fotogalerij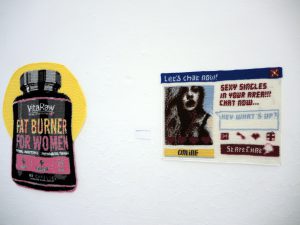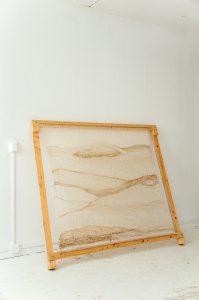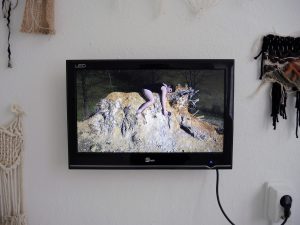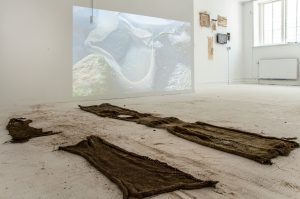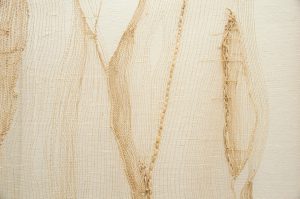 met dank aan
Floor Martens